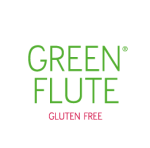 DELIVERABLE PRODUCTS – in the best pharmacies and specialized stores
Green Flute Line offers a range of standard sizes for daily consumption. Pasta, bread and pizza are the right contribution to a balanced Mediterranean diet, thanks to their high nutritional value they bring.
GLUTEN FREE, LACTOSE FREE. CRAFT FORMATS DRAWN IN BRONZE. WEIGHT: 250 g
Green Flute presents more sophisticated type of pasta, formats and processes recommended for the customer who demands a more crafted product with the most intense sensory characteristics for the most demanding palates: fettuccine, pasta for lasagna, paccheri and calamarata.
Types of pasta created to accompany every type of dressing: sauces, vegan, vegetarian, meat and fish dishes. All craft formats Green Flute are drawn to the bronze, hand cut and made only with two simple ingredients: corn flour and rice flour. Green Flute pasta, therefore, is no: preservatives, hydrogenated fats, dyes, OGM, pepper, soy, lactose, wheat flour, gluten-free wheat starch. The 250g format is perfect for not having large stocks in the pantry.
NUTRITIONAL TABLE For 100g
Energy value
204 Kcal
858 Kj
Fat
4,9 g
Saturated Fats
2,5 g
Carbohydrates
31,6
Sugars
2,8 g
Dietary Fiber
2,5 g
Proteins
7,0 g
Salt
0,9 g
| | | | |
| --- | --- | --- | --- |
| 1 DAY | 7 DAYS | 30 DAYS | EXPIRY DATE |
| 3°C | -7°C | -12°C | -18°C |
After defrosted, the product can not be refrozen.